Shopping Cart
Your Cart is Empty
There was an error with PayPal
Click here to try again
Thank you for your business!
You should be receiving an order confirmation from Paypal shortly.
Exit Shopping Cart
Nothing like a trip to the great outdoors to appreciate how small, insignificant and totally out of shape you are.
Zion National Park has been on our list of places to visit since the kids were babes. And we never let them down. It may take almost 20 years, but Pepper and I do what we promise.
While other college kids were ingesting alcohol through plastic tubes in various orifices on sunny beaches, Cory and Shea agreed to go on a family trip with their mothers.
"Follow the paths where ancient native people and pioneers walked. Gaze up at massive sandstone cliffs of cream, pink, and red that soar into a brilliant blue sky. Experience wilderness in a narrow slot canyon. Zion's unique array of plants and animals will enchant you as you absorb the rich history of the past and enjoy the excitement of present day adventures."
To me, "follow the path," was a suggestion. And, at that, something we could do with our fingers on a map posted on the wall of Lonny Boy's Barbecue restaurant. But our young, healthy, fit kids had other ideas.
"We'll start out easy," Cory assured us. "Then you can see how much you can do."
Pepper and I walked from the bedroom of the cabin to the kitchen.
"OK," I said. "When's lunch?"
Before you could say "LewisandClark!" we were marching up a hill surrounded by those massive sandstone cliffs of cream, pink, and red with strangers from all over the world.
Pepper's lung condition gave her a sweet pass.
"I'll be here with the hot cocoa when you get back."
"What about me?" I thought I said under my breath.
"It's only about a mile or so in, Mama," Shea said. "You can do it!"
"Yes. Yes, I can! Where do we board the tram?"
They thought I was kidding.
Surprisingly, I actually made it in--and back out. But, there was one wild moment when I was considering building a lean-to for the night, roasting one of those unique animals on a spit over a fire till dawn.
We had that hot drink and a beautiful dinner. I figured this would be all out of their system by day two. But, apparently, they caught Zion Spotted Fever and wanted more and bigger. The "narrow slot canyon" was not a casino as I had hoped. This was "The Narrows" everyone was talking about.
"For tourist and casual hikers…" said Joe the Hiker.
Joe the Hiker? He didn't even have a last name. Why are we trusting him? A hike that requires changing into a uniform tells me this is more than casual. The kids stuffed themselves like sausages into one-piece rubber suits, neoprene socks and water proof boots. Each was issued special walking sticks aligned with their height.
"Take a good look at me," I said to the hiking "specialist" by day and debutante/internet influencer by night. "Do you think I can actually do this?"
Her face contorted into the entire emoticon selection before she settled on "Yeah, no."
At first, I was confused. Did she say "yeah?" or "no?" But Cory and Shea shaking their heads told me everything I needed to know. I was so happy. I picked her up and twirled her like a baton around the store for a few minutes till I saw the kids making a hasty exit.
Cory and Shea decided that I could at least walk them to the spot where the water appeared. The expression "died and gone to heaven" had new meaning. The scenery was magical and heavenly. But my heart beating outside my chest had little to do with the awe I was feeling and was a little too close to the "died" than I wanted.
"Cory, do you see any defibrillators anywhere?"
"No," he quipped. "No wine tasting carts or vending machines either."
"Some vacation!" I wrote in the dirt with a stick, since I couldn't breathe.
I insisted on "taking in the view" and "snapping once-in-a-lifetime pics." Anything to pause along the way without calling to much attention to my pathetic condition.
"Shea, darling?" I asked as I dragged my aging chassis up the next bend. "Do you hear Negro spirituals right now?"
"No, Mama." she grinned.
"No one calling, 'Go Down Moses…'"
"Yeah, no," she replied.
When we got to the signs that said, "Danger! Flashflood area! "Enter at your Own Risk!" and "Feeling Lucky, punk?" I knew it was time for me to turn heel and get back down to terra firma.
What was "sick!" "rad!" and "dope!" for the young'ins, who turned up beaten, battered and beaming six hours later, was a bit challenging for Big Mama.
It occurred to me that taking advice about what I can handle from Xtreme gamers was probably not the best choice. "Casual" or "basic" or "easy" are all relative terms. Me? I like visuals. Universal signs work best for me. I made my own chart of hikes and levels of difficulty. I will suggest Utah dress these up a bit and utilize them for those like me yet to come. Till then, happy trails to everyone else.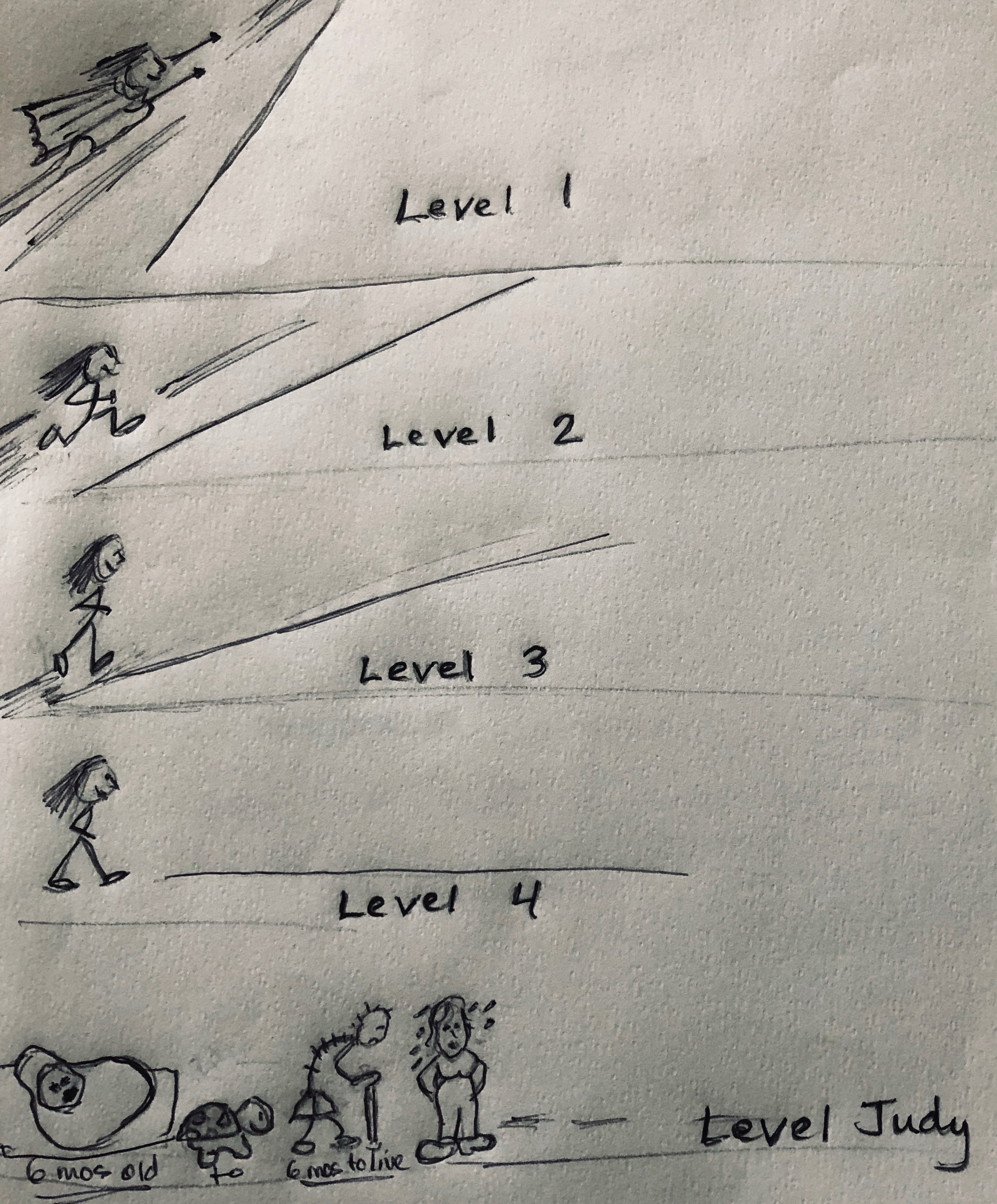 I don't possess the gene that compels me to go to a spa or nail salon. I've always been uncomfortable with strangers grooming me. That mixup back in the 70s doesn't count. But as I've grown older and unable to tie my shoes without tipping over like a drunk frat boy, caring for my feet has become more difficult. Next to a chili dog, my bride Pepper likes nothing more than going for mani-pedis on a regular basis. Like the Cowardly Lion, she sits there on her throne and grins widely as workers at each limb buff, shine and shellac her paws.
"Clip, clip here/and a clip, clip there/we give the roughest claws/that certain air of savoir faire/in the merry old land of Oz."
When the regimen is complete, she is shiny new, has regaled everyone with hilarious stories--some of which are true--and tipped several workers and a couple of customers.
As spring has done sprung, I reluctantly agreed to accompany her so that I could wear open toed shoes without scaring small pets and children.
"I'll handle everything," she said as we walked into her salon.
"Look," I said to her. "I just want the basic pedi. No bells, no whistles. No portrait of the Mona Lisa on my big toe. No nothing. Just a basic pedicure."
She sssshed me as the entire shop greeted her wildly. They practically pulled out the pasha carrier, hoisted her up on their shoulders, carrying her through the shop to her cathedra and began working—singing and whistling like the seven dwarfs.
She waved me in her direction, where they set up a spot for me next to her.
"She just wants a pedicure. Nothing fancy. I know, I know," she said rolling her eyes to her crew.
The technician motioned for me to put my feet in the bubbly water as she squatted at the edge of the tub assessing the situation.
"Oh, ugh, eh, eee, no!" she said in rapid fire succession. I wasn't sure if she was ordering lunch or commenting on my piggies.
"What?!"
She just kept tsking and shaking her head.
"Very bad. Very, very bad." She repeated as she pointed to my heels.
"My heels are bad?" I asked.
"Oh, yeah. Bad. Very bad."
"Well, then I guess it's a good thing I came to you and not the dentist," I quipped.
She rifled through her toolbox looking for just the right equipment. I closed my eyes to try to relax and not get caught up in the noise.
I swore I heard a chain saw revving up as she began scraping those barnacles off my hulls. I looked up to see her wearing a helmet and goggles. The whole salon was in the in duck-and-cover position as nails, skin and random debris flew off my feet.
I felt compelled to make some excuse for the state of my hooves.
"I work with horses," I said.
"Horses?" she asked.
"Yes, you know all those horses that had to be rescued from the terrible fires? I was there rounding them up to safety. Barefoot. Shoes startle them.  All the ashes and dirt and mud and grime and, well, it had to be done. It's hard to talk about."
"Hmm," she muttered. "Horses."
Desperate, I continued. "And elephants. I was right there when the circus went down. All those beautiful creatures needed to be calmed and transported. Somebody had to do it."
"Oh. Elephants," she mumbled.
When Pepper finally finished leading everyone in a second rendition of "Que Sera!" she turned to listen in on my conversation.
"Don't say a word!" I chided.
She motioned a zipper across her mouth.
"She's full of it!" she blurted out.
Mental note to self to never get involved in a caper with this one. She would be singing like a canary when the coppers separated us in interrogation rooms.
As the tech massaged my calves and I was close to proposing, or at least asking her out for a drink, she looked up and me and smiled.
"You lucky lady."
"I am?" I beamed.
"She is?" Pepper piped in.
"Yes! Very lucky, lucky lady!" she said as she carefully examined my gams, rubbing up and down their length.
I assumed she was reading my varicose veins and could see the future or something.
"How am I lucky?" I asked, anticipating a prediction of a windfall coming my way.
She propped her own leg up on the tub, revealing a hairless, bony limb the size of a toddler's arm.
"See?" All bone. No food in my country. But, you!" she said grabbing a hunk of my burning love. "Lots and lots of meat. Lots of food! You lucky lady!"
That's it!
I ran out of that place as fast as those "meaty" calves and decrepit heels could take me and never looked back.
"Don't worry," Pepper said when we reunited. "I paid her handsomely and tipped even better. I explained everything to them."
"Everything?"
"Yes. I had to say something to explain your bizarre behavior."
"You told them I was late for another appointment?"
"Something like that."
"What. Did. You. Say?"
"I told them you had explosive diarrhea."
"What?! Why that?! What did they say?" I asked, completely mortified.
"They said 'No problem. You still very lucky lady!"
-30-
COPYRIGHT 2018 JUDY LANE
Like many others, I have been thinking about the #metoo movement.  A lot. First of all, it's about time! But before I go further, I should disclose that I'm a 64 year old recent retiree. I was in the work force for 45 years. I'm in a 30+ marriage to my soulmate and sweetheart, Pepper. Another woman. Prior to Pepper, I dated men only and was married to a man for 15 years, which has given me a unique perspective on both sides of the aisle so to speak. Having had both a wife and a husband, I can tell you the joys and challenges of both. But that's another story for another time.
While I probably won't be directly affected by what happens next between men and women in the workforce or playforce, I am still very interested in what it's going to be like now. For one, Pepper and I are parents of a 20-year-old son and an 18-year old daughter. This has me wondering. Will it be so much better for my daughter than it was for me and other women in the olden days? And on the other hand, it will be potentially worse for my son?
In my story, the world is turned on its side for the next few years—hasn't it already been turned upside down for us? So what's another 90 degree rotation in the big scheme of things. From now on, only girls and women can approach the opposite sex for dates, coffee, conversation, a dance, sex and any other courting rituals that have traditionally be assigned to the man or boy. Think about it. A man will no longer wonder if she is truly interested. She approached you. She asked for your phone number. She said, "Let's have a coffee and roll! Or "Let's have a roll in the hay!" Just don't confuse the two. No more guessing. No more embarrassing yourself by walking across a crowded room because you thought she looked at you just a little longer than usual, only to be turned down and have to take the walk of shame back to the support beam you were holding up. How could you be so wrong? Never again.
A comedian used to say that "women are psychic. They know if youre' going to have sex." It's so funny because it's so true.
I opened with "it's about time!" because we have seen all too well what unwanted, non-consensual sexual advancements and assault can do to a person. But I am also romantic and hope we will manage to find a way to still court one another. That my daughter will feel the thrill of hearing a guy say, "I've loved you since 8th grade. I was just afraid to talk to you because you were so pretty!" Or that my son may get to do do what my father did to entice the woman of his dreams.
My parents met on a crowded street in London in 1940. He was a handsome immigrant from Hungary, fleeing his homeland from the impending Nazi invasion and she an Irish beauty having left the old sod to live in a big city. My father spoke very little English but carried a small English/Hungarian dictionary with him to get by. The moment he saw her, he was smitten. He impulsively walked up to her and kissed her on the nose. She instinctively pushed him away while an English bobbie looked on, with an impish smile. My father began quickly pointing to words in his dictionary expressing his adoration and pure intentions. She walked away. Spoiler alert. The story didn't end there.
He got a job where she worked. He moved into an apartment across the street from hers. Sounds like every RomCom on the top ten list in women's magazines. Today, I think we would call that stalking. But it was that hopeless romantic who pursued my mother for months till she finally said "yes!' and ended up marrying him. And, is the reason I—number seven of eight children—am here today. My son could end up in jail for doing anything similar. My daughter could miss out on the most amazing man who can only pursue her from afar. Because after all, it is only the respectable, honorable men who already avoid offending women at all costs, and who will now double down and stop doing anything that could remotely be considered harassment. It's like the people who voluntarily take sexual harassment and anger management classes. It's typically the ones who don't really need it in the first place.
Even in the stone age when "I was laughing myself silly at Mary Todd Lincoln's baby shower," as my daughter would say, we all knew the rules. You weren't supposed to date the boss or the subordinate. A professor wasn't supposed to date his students even though they were over 18. "Supposed to" are the magic words. People did it all the time. But we all understood right from wrong.
When Pepper and I became acquainted, we were just friends. It took me a good nine months to realize that I had feelings for her. "Those" feelings. But as any good lesbian will tell you, they would never pursue a straight woman unless she made the first move. It just isn't done—despite what you see in Orange is the New Black. In the real world, lesbians just wouldn't cross that line. So, I knew I had to make the first move.  I already knew she had feelings for me. That 8x10 picture of me hanging if her office was a clue.  I invited her out to dinner and I told her I had something to tell her before dropping her off at her car. We pulled in to a place for a drink. There I took a sip of my drink, which till today she swears was an amaretto sour, which I have never had in my life, but I digress. I gulped it down and said, "I'm attracted to you." Just like in the movies, she proceeded to grab her things and got up to leave because she fully expected and heard me say, "I can't be your friend anymore because of that lesbian thing you have." Another spoiler alert—we ironed all that out and have been happily coupled since 1987.
Even though this was obviously brand new territory to me, I did know the rules of dating. I was 10+ years older than she. While I gave her—and myself—the green light, I took great pains to not take advantage of her youth because of my age and life experience. Young ladies can be sensitive and easily hurt, I found out very quickly. Men seemed to be used to the ups and downs of a relationship with females and just kept their heads down and repeated, "You're right. I'm wrong." a lot. Courting a woman was a great deal more work. She's right and I'm wrong. A lot. Women are high maintenance. Unlike a man, who requires so little to be happy—food, sex, beer, sex, time alone, sex, TV, sex, TV and sex. So I'm throwing this out there to you young whippersnappers. If a man tried to grab me by the puss at my advanced age, first I would laugh out loud. Then, I would take a quick gander in the mirror to see if I really still had it. Then, I would punch him straight in the throat. But, that's just me. I really have a lot of great advice for attracting and keeping a man—if you want one. The working title for my next book is "Men: I don't want one, but if you do…" It will be chockful of tips and scenarios for catching that man and keeping him happy. As for women. I'm still perfecting that.
Before I begin my story, let me just say that I come from a long line of suffering people. Victims of the holocaust, untimely loss of loved ones and a series of unfortunate events, as they say, is in my legacy. Apparently, this has afforded my people a wicked sense of humor. The ability to laugh through, above and beyond our sorrows.
We wept for days, weeks and months when we lost our parents and two of our siblings as openly and loudly as we shrieked with laughter…at the funeral home, at the gravesite and in the hospitals we commandeered as we held vigils. It's in our DNA.
With that said, I have thought a lot about the recent accusations and admissions of sexual harassment, abuse and assault that is dominating the news. The film industry. Government. Sports. No one and nothing is exempt. Women and a few men got woke and are coming out in droves to tell their stories. I will leave it to others wiser and more schooled to analyze the reasons and offer thoughtful plans for what needs to be done to stop this insanity. I can't help but wonder "what if?"
What's in a Name? – Never name a building after someone who's still alive. They have time to go bad on you. Wait until the donor has been dead for at least 10 years and only after there has been a thorough background check. Nothing is worse than naming a college football stadium after a Heisman Trophy winner only to have him murder his ex-wife and her friend.  Or something like that.  "The Harvey Weinstein School of Drama" is sure to go down in flames with the "Madoff School of Economics" and "The Weiner Ethics Institute."
Sex in the City, State and Federal Government – Let's go back to the good old days when members of the three branches of government were one sex. Only turn it on its head and restrict service to only females. Then, we can get on with the business of running our country instead of fighting criminal charges. Naturally, this isn't completely fool proof. I'm sure if you search hard and long, you may eventually find one woman who may have whipped open her tattered chenille robe in front of a troop of boy scouts and yelled, "Hold my martini! Time to earn a new badge, boys!"
Good Gals – Remake every great movie with a female cast to preserve our classics for eternity no matter who rots like an old avocado. Joe Pesci, Robert DeNiro and Ray Liotta can be replaced with Melissa McCarthy, Helen Mirren and Cher. Can you just see Melissa now?
"These jeans make me look fat?! Fat how? I mean, fat like I'm a cow? I'm here for you to flippin' judge?! How da eff am I fat? What da frack is so fat about me? Tell me! Tell me what's fat?!"
She then kicks off her spanks, wraps it around his neck and chokes him out.
Cool Hand Lucy – Jodie Foster, Gal Gadot and Lucy Lui find themselves on the wrong side of the law and end up on a chain gang in Texas. We open to a thong-clad Channing Tatum become a human chamois as he sloshes over his car that he just happened to park along side the gang swinging hoes in the middle of nowhere. Gadot walks up to him, slaps him in the face with his own rag, hands him her rake and says, "Do something useful and finish my row, pretty boy!"
Later, back at camp, bored and frustrated, the prisoners stage a competition of two pregnant inmates. Lui wins by giving birth to twins, 10-lbs each, with no epidural, while tweeting. She's back at work the next morning with a double baby Bjorn strapped on as she whacks those weeds.
So, what if? Can good things come of bad things that happened long ago? What if? Maybe if we believe. What if we start by believing those women like we believe those little boys?
And I don't know about you, but I think it would be awesome to see Hallie Berry kicking ass at a white supremacist's rally screaming, 'I'll be Black!"
-30-
When I was a little girl and my birthday was just around the corner, I couldn't contain my excitement. With my parents and eight kids, our family had built-in birthday parties. I shared mine with my sister who was 4 years and 3 days older. But, our mother made sure we each got our favorite cake. Strawberry shortcake for her and chocolate on chocolate with a side of chocolate for me. And Pepsis for everyone. It was the only time we actually got real soda. Typically it was jugs of Kool-Aid in our fridge, which my older brothers affectionately called "bug juice." I think it was to deter us younger kids from drinking it. But we were fearless and would live forever so we filled up our Flintstones jelly glasses over and over. But on birthdays, we each had a bottle of Pepsi.
"Away with this swill," we'd declare as we pushed aside the watery bug juice and chugged our sodas.
Several decades later, things are a little different. I still love my birthday, don't get me wrong. But my priorities have changed. Instead of dropping hints of a doll or cowboy guns and holster I eyed in a magazine, I'm making annual medical appointments. Like a classic car that was once shiny and new, this body of mine periodically needs some work so it's easiest to remember to do it in my birthday month.
Some of my parts are rusty. Others need a tune up. While still others are may eventually need to be rebuilt. I wonder if I can ask for Sophia Vergara collection of spare parts.
Like a 20-step preventative maintenance & safety inspection, I open my calendar, get on the phone and start checking off the list:
Headlights – Fortunately mammograms are not necessary every year for women of my advanced years. It's actually helpful now that my pretty and perkies are long and loose because I can just sit in a chair near the door and flop those girls up on the vice grip making it less involved for me.
Grill – Keeping up with cleanings and lying about flossing "at least once a day!" helps to avoid the dreaded gum planning. The words sounds nearly as awful as the procedure.
Radiator - Avoiding hormone supplements, I've managed to keep those hot flashes at bay with a great gift from my friend, Patti—a personal fan draped around my neck.
Under da hood – A tisket, a tasket, all my eggs were in that basket—once. Today there is nary an egg to be found. Not that I'm looking to make the Guinness Book of World Records for birthin' no baby or anything but it's sad to think that there's an old codger out there still producing sperm while my factory was closed in the recession.
When the OB/GYN finished cracking it all open and reeling back his tools, he happily remarked. "Well, this is the last time for this!"
"What do you mean?" I asked.
"Well at your age, medical recommendation is that you no longer need this…" and then muttered something about life expectancy, no point and a dried prune. At least that's what I heard.
"Well, I beg to differ. I still need this!" I protested, flipping up my paper gown to reveal my aging nether regions.
"Oh, no," he laughed. "That's not what I mean. It's just that there's no medical reason to test you for certain issues related to your, well…
"Hoo ha?" I offered. "Doc, I'm an old lady. Just give it to me straight. Well, not really. I'm married to woman."
Suddenly a red light went off in the room and he ran out, screaming "Emergency!" I'm sure it was connected to that wand he was holding to trigger an alarm to go off to get him out of the room.
I'm continuing my yearly ritual of fluid replacement, alignments, and recharging the battery. This year, it includes a better fitting bra to refine the shock absorbers so I can continue to strut this '53 Model J for many more years to come.
-30-
Copyright 2017 Judy Lane
/