Shopping Cart
Your Cart is Empty
There was an error with PayPal
Click here to try again
Thank you for your business!
You should be receiving an order confirmation from Paypal shortly.
Exit Shopping Cart
| | |
| --- | --- |
| Posted on April 5, 2019 at 11:50 PM | |
Nothing like a trip to the great outdoors to appreciate how small, insignificant and totally out of shape you are.
Zion National Park has been on our list of places to visit since the kids were babes. And we never let them down. It may take almost 20 years, but Pepper and I do what we promise.
While other college kids were ingesting alcohol through plastic tubes in various orifices on sunny beaches, Cory and Shea agreed to go on a family trip with their mothers.
"Follow the paths where ancient native people and pioneers walked. Gaze up at massive sandstone cliffs of cream, pink, and red that soar into a brilliant blue sky. Experience wilderness in a narrow slot canyon. Zion's unique array of plants and animals will enchant you as you absorb the rich history of the past and enjoy the excitement of present day adventures."
To me, "follow the path," was a suggestion. And, at that, something we could do with our fingers on a map posted on the wall of Lonny Boy's Barbecue restaurant. But our young, healthy, fit kids had other ideas.
"We'll start out easy," Cory assured us. "Then you can see how much you can do."
Pepper and I walked from the bedroom of the cabin to the kitchen.
"OK," I said. "When's lunch?"
Before you could say "LewisandClark!" we were marching up a hill surrounded by those massive sandstone cliffs of cream, pink, and red with strangers from all over the world.
Pepper's lung condition gave her a sweet pass.
"I'll be here with the hot cocoa when you get back."
"What about me?" I thought I said under my breath.
"It's only about a mile or so in, Mama," Shea said. "You can do it!"
"Yes. Yes, I can! Where do we board the tram?"
They thought I was kidding.
Surprisingly, I actually made it in--and back out. But, there was one wild moment when I was considering building a lean-to for the night, roasting one of those unique animals on a spit over a fire till dawn.
We had that hot drink and a beautiful dinner. I figured this would be all out of their system by day two. But, apparently, they caught Zion Spotted Fever and wanted more and bigger. The "narrow slot canyon" was not a casino as I had hoped. This was "The Narrows" everyone was talking about.
"For tourist and casual hikers…" said Joe the Hiker.
Joe the Hiker? He didn't even have a last name. Why are we trusting him? A hike that requires changing into a uniform tells me this is more than casual. The kids stuffed themselves like sausages into one-piece rubber suits, neoprene socks and water proof boots. Each was issued special walking sticks aligned with their height.
"Take a good look at me," I said to the hiking "specialist" by day and debutante/internet influencer by night. "Do you think I can actually do this?"
Her face contorted into the entire emoticon selection before she settled on "Yeah, no."
At first, I was confused. Did she say "yeah?" or "no?" But Cory and Shea shaking their heads told me everything I needed to know. I was so happy. I picked her up and twirled her like a baton around the store for a few minutes till I saw the kids making a hasty exit.
Cory and Shea decided that I could at least walk them to the spot where the water appeared. The expression "died and gone to heaven" had new meaning. The scenery was magical and heavenly. But my heart beating outside my chest had little to do with the awe I was feeling and was a little too close to the "died" than I wanted.
"Cory, do you see any defibrillators anywhere?"
"No," he quipped. "No wine tasting carts or vending machines either."
"Some vacation!" I wrote in the dirt with a stick, since I couldn't breathe.
I insisted on "taking in the view" and "snapping once-in-a-lifetime pics." Anything to pause along the way without calling to much attention to my pathetic condition.
"Shea, darling?" I asked as I dragged my aging chassis up the next bend. "Do you hear Negro spirituals right now?"
"No, Mama." she grinned.
"No one calling, 'Go Down Moses…'"
"Yeah, no," she replied.
When we got to the signs that said, "Danger! Flashflood area! "Enter at your Own Risk!" and "Feeling Lucky, punk?" I knew it was time for me to turn heel and get back down to terra firma.
What was "sick!" "rad!" and "dope!" for the young'ins, who turned up beaten, battered and beaming six hours later, was a bit challenging for Big Mama.
It occurred to me that taking advice about what I can handle from Xtreme gamers was probably not the best choice. "Casual" or "basic" or "easy" are all relative terms. Me? I like visuals. Universal signs work best for me. I made my own chart of hikes and levels of difficulty. I will suggest Utah dress these up a bit and utilize them for those like me yet to come. Till then, happy trails to everyone else.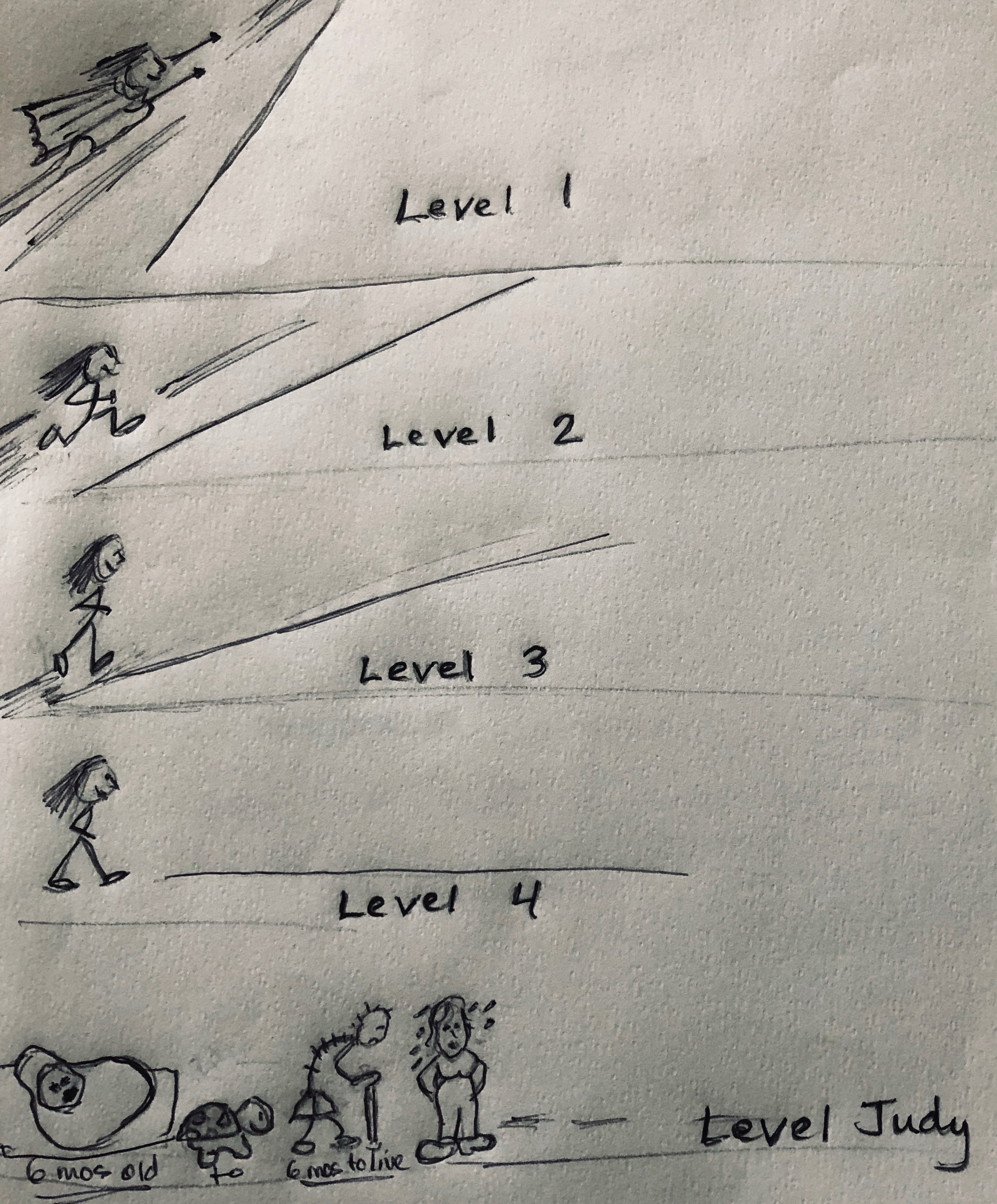 Categories: None
/